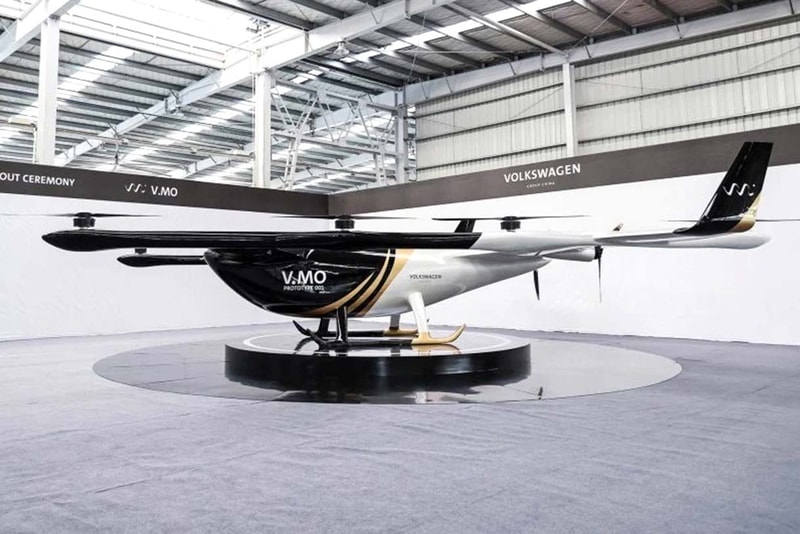 As other established automakers such as XPeng and Aston Martin reveal ambitious plans of stepping into the world of air mobility, Volkswagen now ventures into aircraft design for the first time with the launch of a new "state-of-the-art passenger drone prototype." Dressed in a black and gold livery, the four-seated automated vehicle is officially named VMO and nicknamed "Flying Tiger," coinciding with this year's zodiac based on the lunar calendar.
VMO measures 11.2 meters in length and 10.6 meters wide, featuring eight rotors for vertical mobility and two rear propellers for horizontal movement. When finalized, it's expected to be able to fly up to 200 km per hour and 60 minutes on a full charge.
Aiming to capture the urban mobility market, Volkswagen's Chinese subdivision, Volkswagen China, worked with design consultancy Tangerine and machinery manufacturer Sunward to realize the fully operational prototype. Volkswagen China's project manager and product owner Zhou Jin reveals that the vehicle will initially roll out as a VIP taxi service for urban areas.
"Our vision is for a private eVTOL that will serve the growing urban elite who will be traveling between Chinese megacity clusters for business and leisure," said Jin. "So, in the first phase of its commercial use, VMO is likely to be pitched as a premium product for high-net-worth individuals, for example for VIP air shuttle services."
"We are headed towards a world in which everyone will be able to operate aircraft, even without a pilot's license," Jin continued.  "The key to making this possible is automation and remote control so that passengers only need to select a destination while the vehicle's systems take care of guidance and ensure their safety."
Looking forward, the automotive company looks to release an updated prototype by the summer of 2023.
Elsewhere in automotive news, Porsche unveils the 2023 911 GT3 R.
Click here to view full gallery at HYPEBEAST