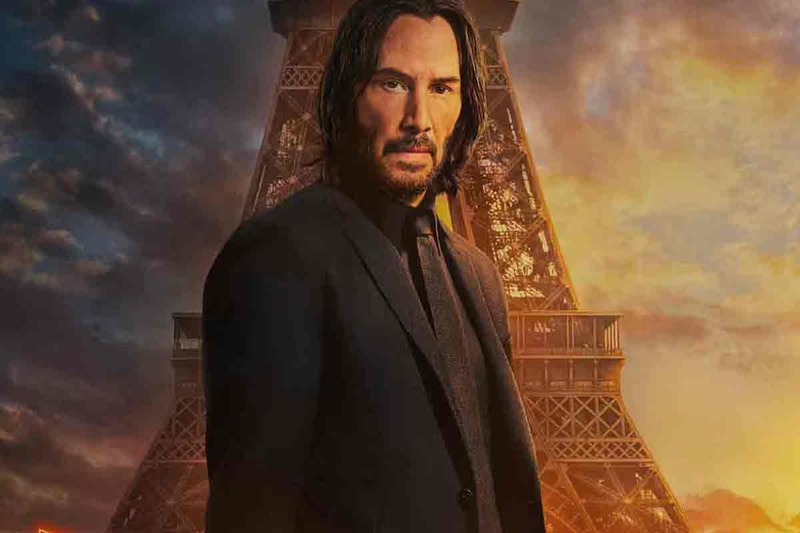 Ahead of the positively received John Wick: Chapter 4 arriving later this month, Keanu Reeves is giving fans a refresher ahead of the release of the film.
Seeing that the previous film was released back in 2019, Reeves wants to make sure that fans remember the key events of the franchise, easing them back into the plotline for the upcoming release. The fourth film raises the stakes and features Bill Skarsgard, Laurence Fishburne, Donnie Yen, Hiroyuki Sanada and more. The new promotional clip sees Keanu Reeves energetically explaining the events of the previous three films.
He begins by telling the story of the first film, "Gangster steals a former hitman's car and kills his puppy." He pauses to say, "My late wife gave me a dog to help me get through the day," and continues, "He takes down half of the Russian mafia and picks a new dog along the way." Next, he discusses the events of Chapter 2 and exclaims that he is "fighting for [his] life," before discussing Chapter 3, "To save The Continental, Winston fakes John's death..." In summation, Reeves as John Wick states, "John is rescued by the outcast Bowery King and together they vow revenge on the High Table. Now you're ready for John Wick: Chapter 4."
Watch the full clip below. John Wick: Chapter 4 premieres in theaters on March 24.
Haven't seen the first 3 #JohnWick movies? Don't worry. Keanu Reeves gets you up to speed in 60 seconds. pic.twitter.com/4fDmN1kQ8T

— John Wick: Chapter 4 (@JohnWickMovie) March 8, 2023
In other entertainment news, Caleb McLaughlin is set to star in the new LeBron James biopoic Shooting Stars.
Click here to view full gallery at Hypebeast