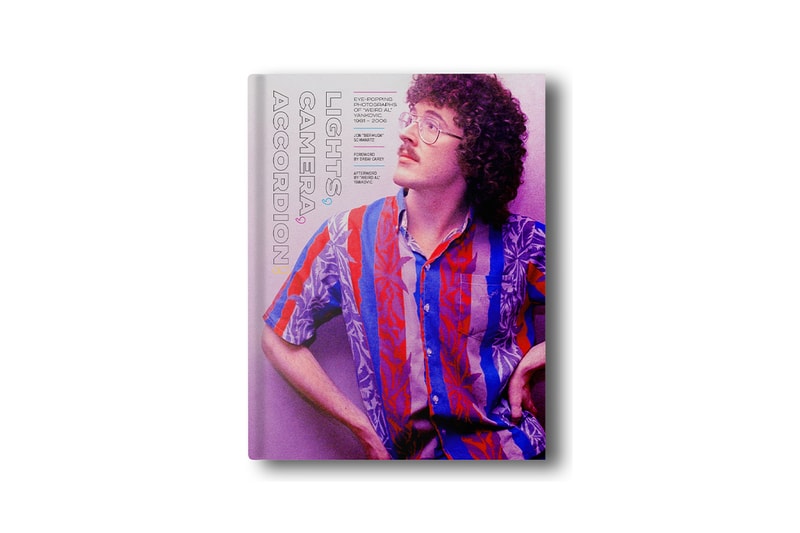 1984 Publishing looks to release a 256-page photographic essay of "Weird Al" Yankovic as seen behind the camera of drummer and photographer, Jon "Bermuda" Schwartz. The duo met back in 1980 and since then Schwartz has amassed over 20,000 images of the famed comedic musician.
Entitled Lights, Camera, Accordion!, the book opens up to more than 300 color photographs selected by Schwartz from his personal collection of 35mm images. Aside from behind-the-scenes shots taken during the shooting of music videos such as "Like a Surgeon," "Amish Paradise" and "Smells Like Nirvana," the compilation will also include stills from studio sessions, stage photographs, tour bus antics, and personal shots. Anecdotes and unheard stories are also written out to accompany the photographs arranged by year, album and tour.
The hardbound publication will also be available as a limited edition deluxe boxed set featuring a copy of the book with alternative artwork and blue gilding, Bermuda's signature, twelve 9"x12" prints, six postcards and a 35mm bookmark containing stills from the "Bob" music video.
With a quantity of 350 pieces, the box set is priced at $99 USD while the book goes for $40 USD. Interested parties may preorder the box set through the 1984 Publishing website starting on August 1 at 1 PM EST, with deliveries slated for November 15.
For more art-related news, Daniel Arsham revealed the CRYSTALIZED SQUIRTLE sculpture.
Click here to view full gallery at HYPEBEAST