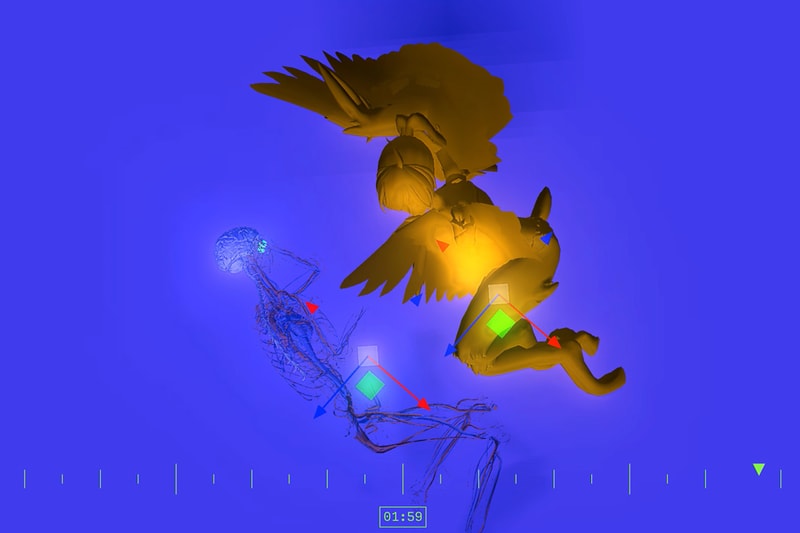 Art has always shown to be an arena for self-exploration — from the earliest cave paintings to the avatars of the digital age. A new exhibition at The Whitney Museum of American Art showcases five artists who extend this thought and reinterpret the growing fascination between digital and physical materiality in attempt to define identity.
Entitled Refigured, Morehshin Allahyari, Zach Blas, Jemima Wyman, Auriea Harvey, Rachel Rossin and American Artist present five installations that probe into new modes of self-representation, while examining a number of structures that shape them, such as systematic and technologic forms of racism and colonialism to AI and cultural myth-making.
Morehshin Allahyari's installation The Laughing Snake draws on Arabian folklore to dissect the myth of Jinn in relation to the status of women and the female body in the Middle East. The original story, first appearing in the Arabian Kitab al-Bulhan (Book of Wonders) around the 14th to 15th Century, describes a massive laughing snake that ravaged a city, killing its people and livestock until an old man was finally able to vanquish it by holding a mirror up to her, causing the snake to laugh uncontrollably until dying. Allahyari's 3-D printed iteration and hyperlinked story mixes personal and imagined narratives to investigate themes pertaining femininity, sexual abuse, morality, and hysteria.
Auriea Harvey retraces her own online origin story through Ox, a physical sculpture, and Ox v1-dv2 (apotheosis), a 3D iteration that lives in virtually in an HTML environment. Experienced in video game and software development, Harvey builds her characters partially by physical scans of her own head, work processes and imaginary works.
Anonymously known as American Artist, their latest installation Mother of All Demos III (2022) depicts a mold of the Apple II computer covered in dirt and black ooze spilling out of it. Blackness is the central theme within this work, which alludes to how Black workers have historically been underrepresented within the workforce in Silicon Valley. As the last Apple desktop with a black homes screen, the decrepit installation juxtaposes the sleekness that Silicon Valley and big tech is known for with a series of subtle but impactful design choices that reflect ideologies rather than digital interfaces.
The exhibition is now on view at The Whitney and will run through July 3.
Elsewhere, Desert X scatters captivating installations across Coachella Valley.
The Whitney Museum of American Art
99 Gansevoort St
New York, NY 10014
Click here to view full gallery at Hypebeast