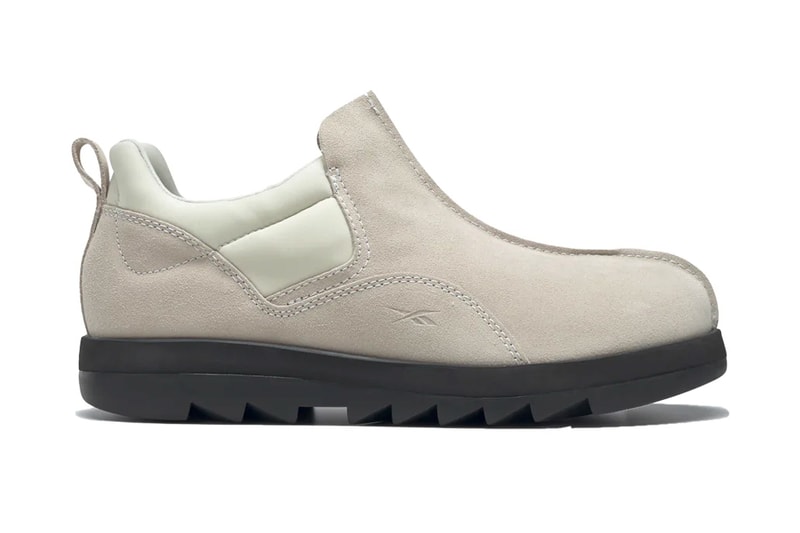 Remember the Reebok Beatnik? The sandal that became the talk of the town in 2020; an ugly-cool silhouette that went on to define a moment in many lives around the world, including some of HYPEBEAST's own editors who counted on the Beatnik to get them through the lockdown. Well, now, Reebok has reinvented the Beatnik for all kinds of conditions, turning it into a (what will surely be divisive) moc bootie.
Referencing both the original Beatnik sandal and Reebok's own outdoor footwear and BOKS casual boot archive, this moc iteration has a lot to say. It arrives in "Beige," "Black" or "Brown," although the latter is more of a chalky red hue. There is a familiarity with this new style, especially at the toe which is rounded like its sibling and fitted with a thick exposed seam that runs up the center of the toe and vamp.
However, because this is a moc there is no strap. Instead, the branding now appears on a mid-panel section that sees the Reebok vector etched into its suede body. This element extends around the shoe, making up a heel piece that receives the same debossed branding on its medial side.
A stretch neoprene collar locks down your ankle and creates the bootie silhouette, while a suede heel tab at the rear and a tail-finished flappy tongue also in suede make the moc easier to put on and take off. As expected, Reebok completes the pair with a molded EVA footbed that incorporates plenty of jagged tread components into the rubber outsole, providing you with comfort and stability along with traction for when you take the Beatnik moc off the beaten track.
Reebok's Beatnik moc retails for $134 USD and can be bought from retailers like Finesse now. Some sites are only offering the pair in smaller sizes, but colorways such as "Beige" and "Black" can be found up to a US 12 online.
For more daring footwear, take a look at the upcoming adidas adiFOM Q.
Click here to view full gallery at HYPEBEAST