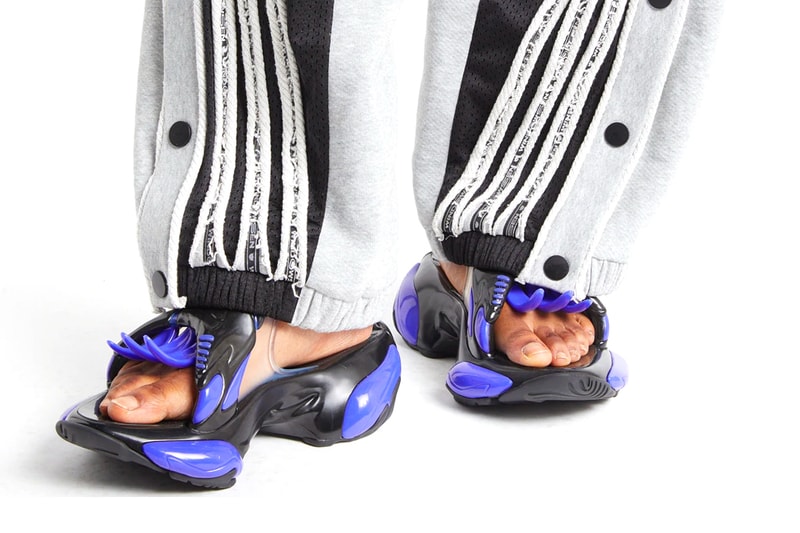 Stavros Karelis' London-based concept store Machine-A is not one to shy away from stocking risk-taking designers, and nothing is as daring as its lastest offering from WINDOWSEN, the Antwerp-based brand from the Chinese designer Sensen Lii.
Dubbed the Prosthetic Slide, these genderless shoes are designed as an extension of WINDOWSEN's aesthetic, that being a bridge between reality and the otherworldly. Women's haute couture and men's sportswear combine throughout the brand's design ethos, and this is the same for the Prosthetic Slide as it takes a traditional format and applies an avant-garde approach.
For the shoe, WINDOWSEN opts for a black and purple color palette that covers the TPU silhouette. An oversized prosthetic heel and midsole unit is combined with a growth spurt-esque foot shroud, with faux nails extending from the piece like an alien's foot.
A glossy finish is applied to the footbed, before extending to the heel where you'll find WINDOWSEN's signature branding in three-dimensional letters. Further branding decks the outsole, sitting alongside an anthropomorphic design that adds grip and comfort.
WINDOWSEN's Prosthetic Slide retails for $855 USD and can be bought from Machine-A's store and website now. Take a closer look at the pair above.
Elsewhere, MSCHF has previewed its next AF1-inspired sneaker.
Click here to view full gallery at HYPEBEAST