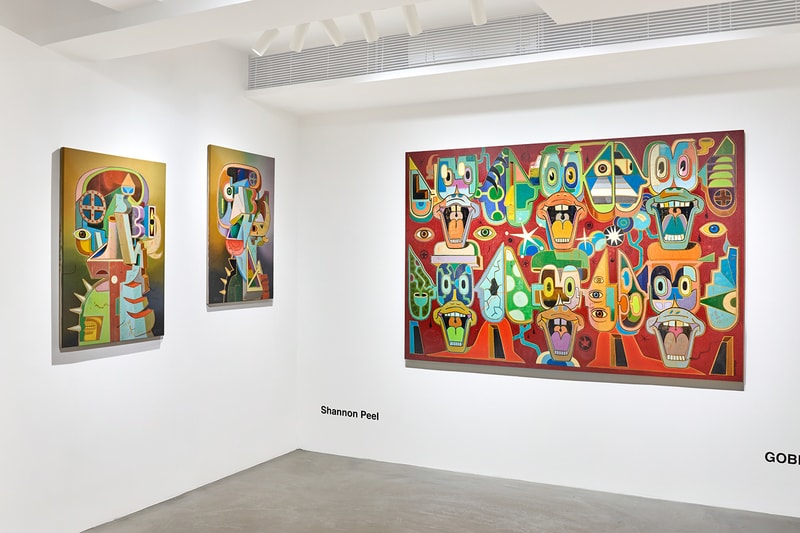 For its latest exhibition, WOAW Gallery tapped Australian-born and Brooklyn-based artist, Shannon Peel, to share his repetition-based artistic process. Dubbed "GOBLIN FANFARE," the solo exhibition curated by Saša Bogojev, highlights Peel's painterly practice that relies upon momentum to create natural expressions of the subconscious and spontaneity.
Artworks show flow, form, space, and color, while continuing Shannon Peel's established recurring elements that note progress in alteration evolvement, and refinement. The showcase of self-quotation and technical improvisation has been integral to the artist's work defined by classical tropes, layered textures, and discordant subdued tones. While traces of pigments, scraped, scratched, dirty, and broken-down touches offer a charismatic flair to finished works.
The subversive touches contrast the controlled linework to create a mix of "psychedelic optimism" and "happy accidents" to strike a balance between technique and emotion that carry Shannon Peel's "proliferative practice," in the words of Saša Bogojev.
Take a look inside WOAW Gallery's "GOBLIN FANFARE" By Shannon Peel, curated by Saša Bogojev above.
WOAW Gallery Wan Chai
5 Sun Street,
Wan Chai, Hong Kong
View this post on Instagram
In case you missed it, THE SHOPHOUSE's "GRUE" trio exhibition features Minku Kim, Ben Edmunds, and Yves Scherer.
Click here to view full gallery at HYPEBEAST