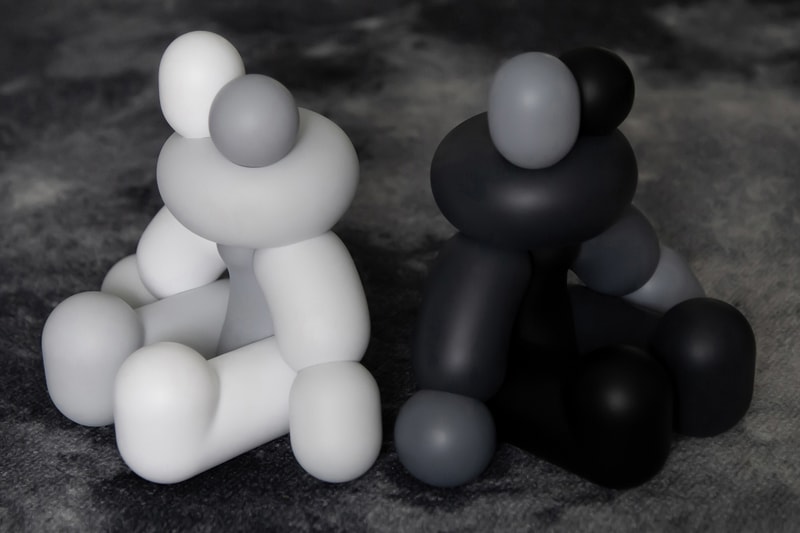 Early last year, New York-based artist Yoon Hyup reinterpreted one of his signature dot paintings in the form of a three-dimensional character called Juggler. The figure was released in two vibrant configurations that were each limited to an edition of 125. For those of who you missed out on the chance to purchase, Hyup will bring back Juggler in a new white-and-black iteration.
Releasing exclusively through AISHONANZUKA gallery, the latest round of Juggler characters feature a pared back monochromatic color palette. "Someday, I started to find some faces in my paintings (random creatures). This new character's name is 'Juggler,' which is created based on the faces that are hidden in my paintings," the artist described in a past statement. Emblematic of his work, Hyup creates large stipple-like paintings that often depict various cities the artist has traveled to, along with imagined landscapes.
Similar to the first drop, the white-and-black Juggler figures possess the same dimensions (198 millimeters tall), are limited to an edition of 125 and arrive in a custom box with a price tag of $300 USD. However, in order to purchase, all customers must enter through a lottery system starting on July 1 at 11pm ET until July 3 at 11:59am ET. Winners will be announced by email after July 5.
To enter, email shop@aishonanzuka.com with the subtitle "Application for Juggler (White/Black)" and provide your name, phone number, email and shipping address.
Elsewhere, Claire Tabouret released a new book to document her latest exhibition.
Click here to view full gallery at HYPEBEAST