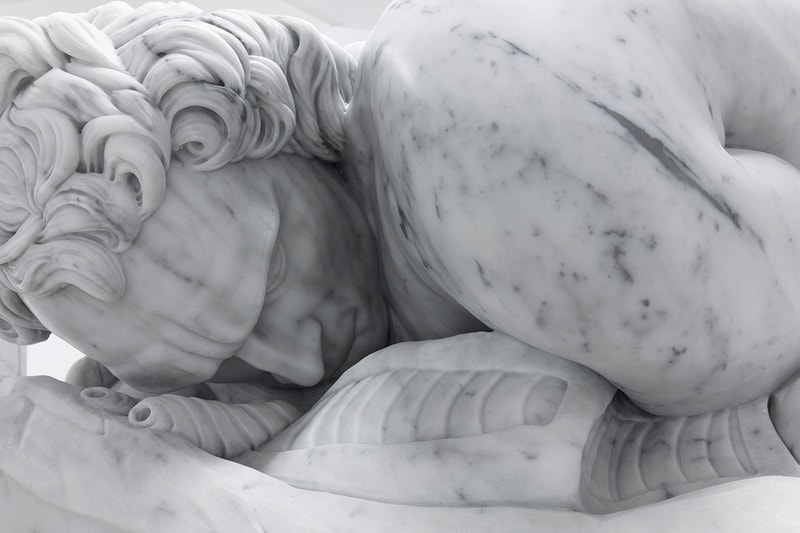 Here's a thought: Imagine taking classical marble sculptures and throwing them into a trash compactor. That's one way to describe Adam Parker Smith's latest exhibition. Housed at The Hole's new Los Angeles gallery, Crush is a noticeable departure from the American artist's vibrant aesthetic, that often pits whimsical pop cultural references in totemic structures.
The show is partly inspired by Smith's time living in Rome, where he was immersed in an array of buildings and artwork from the age of antiquity. Standing at roughly one cubic meter, each sculpture was made in collaboration with master carvers, a seven-axis reductive robot, and the digital research teams at museums like the Uffizi.
From Apollo of Belvedere, Cupid Triumphant, to Bernini's David, Smith's Carrara marble sculptures are radically reimagined to defamiliarize the eye to these canonical references — presenting the viewer with the notion that once upon a time, marble sculptures were no different in capturing daily life as selfies are in the present age — a humorous approach that challenges the way we see and connect with the world.
Crush is on view at The Hole LA until August 20.
In related news, a new exhibition at The Met will present Greco-Roman sculptures in their original form.
The Hole LA
844 N La Brea Ave,
Los Angeles, CA 90038
Click here to view full gallery at HYPEBEAST